The opening of the McWiLL network in the Krasnoyarsk Territory
12.10.2017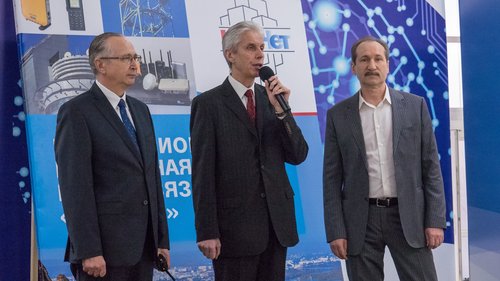 On October 12, 2017 in Krasnoyarsk region in the framework of the XV specialized exhibition-forum "itCOM – Information technologies. Telecommunications" the official opening of the network McWiLL took place.

The network is constructed by the regional telecommunications operator LLC "KommInform" in cooperation with LLC "Lardex" (part of the LLC "NSTT" group of companies) and combines the advantages of cellular communication with the convenience of using mobile trunking and broadband radio communication systems. Using the advanced standard of wireless data transmission McWiLL, the newest methods of coding and intelligent antenna systems it became possible to build a reliable multiservice wireless network with guaranteed protection from unauthorized access. As a result of participation in the exhibition LLC "KommInform" was awarded a diploma "For the promotion of a professional mobile radio network to the Krasnoyarsk Territory market".

The McWiLL technology will allow offering services in territories where wired infrastructure is not developed while providing customers with the necessary set of high-quality telecommunications digital services. The range of services includes data transmission, voice communication, leasing of communication channels and construction of corporate networks. The network's capabilities will allow to solve various tasks on operational management of the region, provide reliable communication for the purposes of the digital economy, telemedicine, security, provide on-duty dispatch services, provide guaranteed communication channels when providing public services in electronic form and provide sports competitions at the Universiade-2019.

Your message has been sent successfully